Benevolent Contagion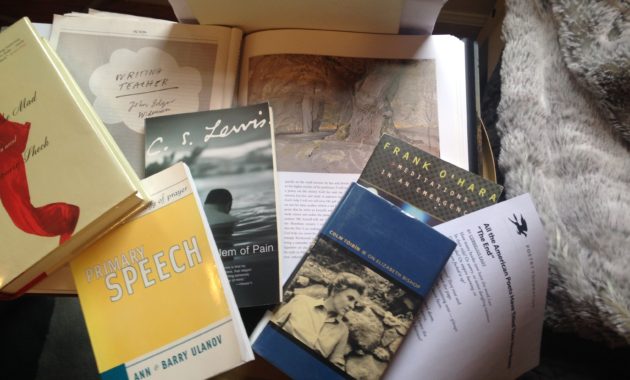 January 24, 2018
Before today, I had not posted on my website since the day of my older son, Ike's, death, now more than a year ago. I had found comfort for months in the photo of him and in the words of W. S. Merwin and Agnes Martin that had reached me that day.
For most of the last year, I have been writing about Ike and my tremendous gratitude for having had those last months with him.
I had heard of a poet who did not read for a year when she was depressed, and I thought that odd, but then I began to understand how that could be. Understanding made me fear that might happen to me.
Laurie Sheck's Island of the Mad came out in early 2017, and saved me. It was beautifully written and unusual, and reading it got me going, at first reluctantly, but then in that wonderful way superb writing provides, I was swept up. Reading gave me a sense of propulsion and movement, and with a few stops and starts, I kept finding new and more. I turned back to the previously read, as well.
C. S. Lewis, The Problem of Pain, Ann & Barry Ulanov, Primary Speech, Colm Toibin, On Elizabeth Bishop, Poetry magazine, where I found Cornelius Eady's "All the American Poets Have Titled Their New Books 'The End' ", Frank O'Hara, Meditations in an Emergency, and every Saturday morning the Best American Poetry blog.
I am describing a benevolent, generous contagion to which I succumbed. It did not eradicate the grief, it simply opened things — windows, thoughts, breath, me..gradually. I knew I had caught it wonderfully seriously when I reached for a book I'd owned for several years and regularly avoided reading: The Art of Losing, edited by Kevin Young. By the time I had read a half dozen poems, starting at the beginning, I knew I would keep this book and that what it was saying was touching me so intensely that I would mark its pages, underscore, mark out, converse with these poems and poets, writing on most every page and inside the front and back covers.
Each of these works has mattered in ways I will continue to consider.  There are more, and there will be more still.
For the first three months after Ike died, I told almost everyone I saw, "my son just died." I will know that every moment of my life, but there is no urgency now. I can read, I can listen.