Here We All Are
When I was in high school in Fayetteville in the early 1970s, my best evenings at home were when my father would build a fire in the living room fireplace.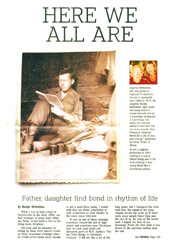 Excerpt from
The Fayetteville Observer, January 10, 2010
His fires and his pleasure in sitting by them were special treats on those occasional evenings when he would arrive home early enough to get a good blaze going. I would seek him out there, sometimes to talk, sometimes to read silently in the same room with him.
It was on one of these evenings sometime toward the end of high school and sometime near Christmas that we first read aloud and discussed parts of W.H. Auden's "For the Time Being: A Christmas Oratorio." I did not like a lot of the long poem, but I treasured the time with him, the sound of his voice ringing across the room as if there were more people there than just the two of us, his love of the words (and, I hoped, his love of my listening). From the first read, I was drawn to the narrator section near the end.
For the innocent children who whispered so excitedly
Outside the locked door where they knew the presents to be
Grew up when it opened . In the meantime
There are bills to be paid, machines to keep in repair,
Irregular verbs to learn, the Time Being to redeem
From insignificance. The happy morning is over,
The night of agony still to come; the time is noon…
Last month, the Sunday after Christmas, I race to North Carolina to spend a few moments with my dad. It has been too many months since my last visit. We have not had a significant, sustained conversation for almost a year. He is slipping away with what the doctors in Chapel Hill and Pinehurst have identified as a form of dementia.
My desire to see him is elemental; I drive the two hours from Raleigh-Durham airport to the retirement community in Laurinburg in a silence I note from a distance.
The nurse I so admire there is in full view behind the nurse's station as I push open the doors into the special care unit where my father has lived for 10 months. I am delighted to see her. She is a person I would have liked wherever I'd met her. I've thought often how good it is that she is at least a few days each week in my father's universe.
Peggy points to her left. "He is waiting for you!" No one knew I was coming. There he is, his smile broad.
"Madgicake," he says, calling me by the nickname he settled on once I got up the gumption to suggest that "Fat Lady," though perhaps endearing to him and perhaps accurate, was a bit damaging to my eighth-grade psyche. "Madgicake."
I had feared he would not remember. I hug him and feel immediately relaxed and strangely secure.
I sit across the cafe table from him in the dining area of the special care section of Scotia Village. We hold each other's hands. He worries that mine are cold and that his are bruised. I tell him his hands look beautiful to me. He breaks into a soft song – he changes the words to a familiar tune, puts my name in. He says only good things to me, again and again.
I tell him he is just about the most important person in my life to me. I do not say, "How am I going to let you go, you most important person?"
I have wondered at times if there is something wrong with me that I care so much for my father, that I so want his pleasure and approval. Perhaps it is hard to sort out the ideals from the daily when you sit in a pew and hear him speak from his heart and his head every Sunday for years and years.
There have been times in my life when I wished I had had stronger powers of decision-making, had been less attuned to his, but those seem irrelevant now. His advice was never bad; what I have done with it is mine.
Last January after lunch at Subs-N-Cream, Etc., in this small town 40 miles from where I grew up – close to where he grew up and hunted wild turkeys with his father and sold asparagus with his mother before going to war – my father told me that he was ready to go, that he needed Mother to know that, that he would take her with him if he could.
There next to a salad bar, barrels of "too many flavors of ice cream to choose" and a consignment shop in the corner of the restaurant, he is offering a portion of love's austere and lonely offices (Robert Hayden, "Those Winter Sundays") for my mother, for me to keep handing her along the way.
That January lunch was followed not long after by my father's solo, 200-mile road trip to the gravesite of an Army buddy in South Carolina. He must have made it there and was on his way back when he ran out of gas and pulled over on the shoulder of Interstate 85 and sat in the car until the highway patrol found him about 5:30 in the morning and brought him home. He had said he was going to Furman Smith's grave to sit for 30 minutes and have a good cry.