No Apologies
Find the North Carolina Department of Correction Public Information System website. Enter the name of the offender. Write down the seven-digit offender ID number. Click on the box to see the photo­graph. Or you can do this later.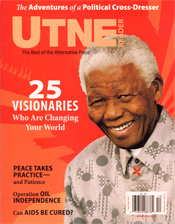 Excerpt from
Utne Reader, November/December 2010
Write down the name of the correctional institution in which he is incarcerated. Write down the name of the corrections officer who will coordinate your visit. If you are invited.
Ask a friend who is a lawyer to search the record to make sure the offender is not insane. Write down the name and telephone number of the lawyer who handled the offender's appeal and who is now a judge. Call him. If you must leave a message, say I am considering visiting…and use the offender's name. Say I am a friend of…and use the victim's name. Say you would appreciate his thoughts on what to expect, given his knowledge of the offender's mental state. Be direct (others have called before you with similar questions)…
Want to read more? A reflection on a visit to the killer of a childhood friend, "No Apologies" first appeared as "What Really Happened" in the July 2010 issue of TriQuarterly. The essay was reprinted in the November/December 2010 edition of Utne Reader. It has been selected for The Best American Essays 2011.