Seeds, Capsules, and Runes
May 6, 2012
In early May, more than on the vernal equinox in this part of the world, friends send lines about Spring, seeds, and the passage of time. A few days ago, after returning from an errand that had me crossing through the park at the back of the American Museum of Natural History, I opened an email with this Marie Ponsot poem inside.
A Rune, Interminable
Low above the moss
a sprig of scarlet berries
soon eaten or blackened
tells time.
Go to a wedding
as to a funeral:
bury the loss.
Go to a funeral
as to a wedding:
marry the loss.
Go to a coming
as to a going:
unhurrying.
Time is winter-green.
Seeds keep time.
Time, so kept, carries us
across to no-time where
no time is lost.
— Marie Ponsot
The poet reads the poem beautifully at Knopf's website
Reading the poem after having just passed the Santiago Calatrava sculpture, the shiny sculptural shape seems now seed-like. I look a bit further to learn that the sculpture had been designed in a contest run by the editors of the New York Times Magazine to coincide with an exhibit at the museum in 1999-2000 called "Capturing Time." A quick call to the AMNH offices asking whether the items are actually currently inside the capsule that sits outside the museum elicits an inconclusive response and the suggestion that I contact the New York Times. More mildly and occasionally curious than committed to investigative reporting in this instance and aware that time capsules are frequently lost or found empty when opened generations later, I content myself with consideration of its (possible) contents, and go back to the poem.
Time, so kept, carries us
across to no-time where
no time is lost.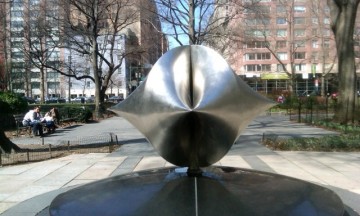 Just the same, if anyone reading resolves this rune and lets me know, I would be much obliged. And if we find out what's here on 79th Street & Columbus, what might be in Chicago's Millenium Park in what its creator Anish Kapoor calls Cloud Gate but what everyone else calls, lovingly, The Bean?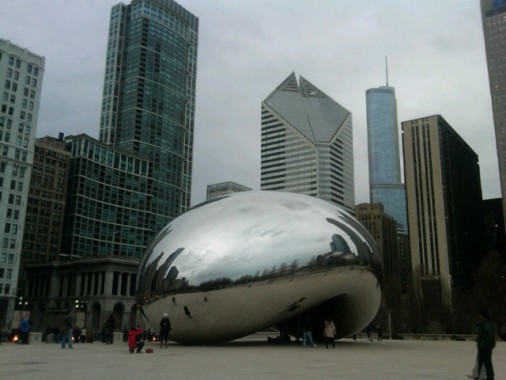 Tags: American Museum of Natural History, Anish Kapoor, beans, Chicago, Cloud Gate, New York Times, New York Times Magazine, runes, Santiago Calatrava, sculpture, seeds, The Bean, time, time capsules