With Merwin in Mind
April 12, 2012
I am eating scrambled eggs Easter morning at the Waverly Diner on 6th avenue, when not long after the eggs I had ordered, the waiter delivers a hard-boiled one, in the shell, dyed shocking pink. He moves quickly, round tray held high, placing one shocking pink dyed Easter egg in a small white bowl with a black Deco design rim in front of every customer. Everyone smiles. The father in the booth next to mine entertains his children with a "vocabulary lesson" more likely to be useful on the playground than the SAT, punctuated occasionally by the admonition that they not reveal the source of these treasures.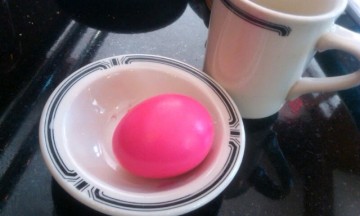 Smiling at the instant decoration the egg makes, and seeking a word or two to entertain myself, I want a poem. A breakfast poem? Eggs? The egg poems I pull up on my iPad do not do much for me this morning. I remember "Oatmeal" by Galway Kinnell and smile instantly, find it online, reread it and enjoy it again, imagine someday perhaps the children in the next booth might. I don't follow the lead to John Keats but to Galway Kinnell's friend and classmate, W. S. Merwin.
In his 1987 Paris Review interview, W. S. Merwin responded to questions about his ecological and environmental consciousness and whether his urge to improve the world had been influenced by his Presbyterian minister father.
I don't think it was an urge to improve the world. It was an urge to love and revere something in the world that seemed to me more beautiful and rare and magnificent than I could say, and at the time in danger of being ignored and destroyed…There was something incomplete about the world of streets and sidewalks and cement — and I did have a very strong sense of growing plants and trees and so forth, and still do. I remember walking in the streets of New York and New Jersey and telling myself, as a kind of reassurance, that the ground was really under there.
As I walk in Manhattan, I often think about what lies under all the asphalt here or here. How much of it looks like the rock we see exposed by the river, in the parks? One of the many reasons I love Central Park, especially the massive schist outcropping of Summit Rock at the intersection of 83rd and CPW is that it reminds me of the substrata shoring up, pushing up against all we have built on top of it.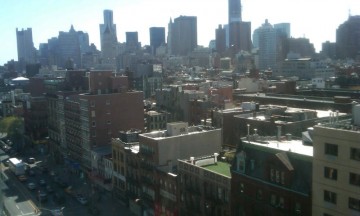 Standing on the balcony of the top floor of the New Museum looking South, it is hard to imagine the substrata, to see past and beneath the impressive skyline.
Thursday, scurrying back across Central Park from the East Side (where all my doctors' offices seem to be) to my desk to keep chasing an essay I'd begun earlier, the beauty of Spring slows me down — blooms, sunlight, people, sprinklers on the lawns. I take a quick turn left just past the Delacorte Theater where three young girls are struggling with heavy camera cases, giggling with excited anticipation. A film shoot, I surmise, and continue. Shakespeare Garden is my destination, anticipating the flowers and remembering my enchantment with the spot when I discovered it in 2004 — my first Spring in New York.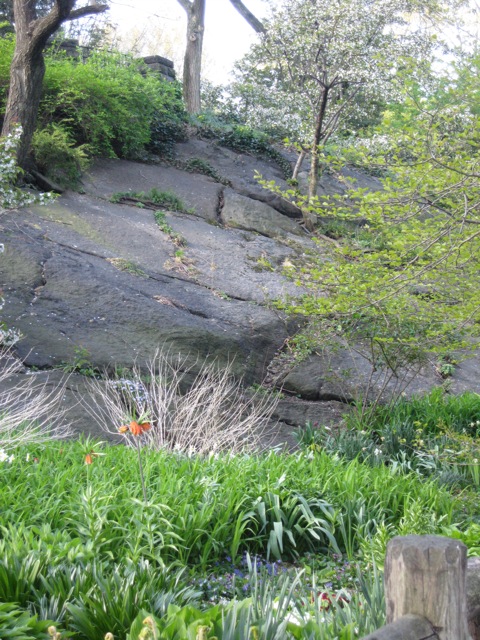 The mound of rock on which the 4-acre garden is planted catches my attention first, especially the flowering trees growing from between its cracks and crevices. Persistent, determined, and beautiful trees — well-tended, nurtured, cared-for by Central Park Conservancy staff and volunteers.
Farther along, on the other side of the hill, descending toward the Swedish Cottage, the rock gives way to rich soil from which springs a stand of brilliant blue grape hyacinths and hot pink tulips that take me back to Sunday's Easter egg 4 days earlier and 70 blocks south. I listen again to W. S. Merwin's words.
In his tribute poem "Berryman", Merwin writes:
he said the great presence
that permitted everything and transmuted it
in poetry was passion
passion was genius and he praised movement and invention
About Berryman in his interview, he says, …his sense of language was passionate and had immense momentum. His integrity was absolute. He was a wacky man, but that devotion was like a pure flame all the time….
My last stop before the scurry west to my desk is to photograph a bit of Shakespeare at the edge of the Garden…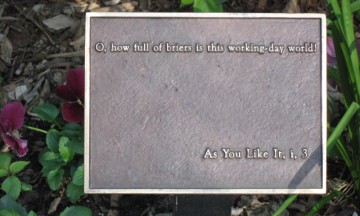 and how wacky with blooms are the crevices.
Tags: Central Park, Central Park Conservancy, Easter, eggs, Galway Kinnell, New York, Oatmeal, Paris Review, poems, Shakespeare Garden, The New Museum, W.S. Merwin, Waverly Diner