A morning's walk
July 30, 2012
It's a warm Monday, the last Monday in July. The relative cool, a surge of energy — perhaps caffeine — sends me to the laundry room and out of my building for a quick walk before the next task at my desk. East past the blast of headlines and glossy magazine covers that is the corner newsstand, past the new mecca of shoes complete with large orange easy chairs that occupies the space that was once Filene's, past the best lampshade shop in the neighborhood, my eye doctor, the hotel where family used to stay when family used to come to visit, not looking but knowing there's a new coffee shop across the street, an uptown offshoot of a downtown place, I turn left and head north at a brisk pace. I have given myself 37 minutes — one laundry wash cycle.
It is fun to take in the familiar neighborhood briskly, to take a pulse of each spot's pull or grip, to note the blankness of storefronts or new places I have not tried and have little desire to, a few I likely will. A leisurely walk invites a different pattern of reflection entirely — nostalgia, things lost, malleable memory at work. There is none of that today. Melancholy does not keep up this morning.
My quick pace sets the filter. Much of what pops into my mind amuses or at least pleases. Some is immediately visual or auditory or olfactory with little overlay of interpretation. The man hosing off the sidewalk at the corner where Peacefood Cafe will soon receive the neighborhood's vegans sports a square-ish blue brimmed cap and an immaculate mustache. A block north, inside Soldier McGee's, I glimpse a man's broad, muscled shoulders as he lifts a barstool from the counter, rights it, and slides it into place. It is a neighborhood I have known for seven of my nine years in New York, and I am content walking it quickly this morning, as much for exercise and clearing the mind as for contemplation.
There is Darryl's — for the neighborhood's get-it-quick sartorial needs, so on-target you dare not walk inside unless you intend to spend, with staff so adept they seem like good friends with great taste and you miss them when you haven't been in for a few months. There are chain places that leave you cold except for the warm memories of coffees shared with former neighbors and students there, the rainy day you lingered and read Alice Notley's essay on "Douglas Oliver's New York Poem". The St. Agnes Branch of the New York Public Library — renovated and well kept — rises above these blocks now, full again with programs and computer terminals, wheelchair access and a few of the familiar librarians' faces. It has fewer books now and less chaos.
Checking my watch, I quicken my pace and plan a trajectory. East along 85th past a hair salon to which I will return during working hours in search of a good buy on a particular shampoo, past the 15 or 20 construction workers waiting to begin their day outside the backdoors of Brandeis High school, and a right turn to head south on Columbus Avenue. Another downtown place has sent its colonizers northward — Joe — the coffee shop. A man in shorts who does not look as though he is headed for work sits on a bench in front of Gastronomie 491 a block north of the pair of organic food places with the amusing pair of names — Spring and Blossom — situated almost side by side. I dodge an Airedale whose owner's attention is riveted elsewhere and look left in time to spot and remember — with fondness — Zingone Brothers.
Just above 79th, under the sidewalk scaffolding, a woman passes headed north. She is not in height, shape or appearance particularly remarkable until close up, it is apparent something unusual, perhaps terrible, has happened to the left side of her face. Her forehead and cheekbone and jaw, including where a left eye would have been, is covered in skin a bit different — darker, smoother, less worn. I do not turn and look — my Southern upbringing has been reinforced by the exigencies of city living — but I do wonder about what might have happened and how she moves with such a calm normalcy.
South of 79th, a beautiful young girl with sleepy eyes squirms on a bench in front of the new-ish Coffee Bean and Tea Leaf. A man with her same eyes, but rimmed with a seriousness, looks up as if expecting someone. It seems a father and daughter, awaiting her bus and his work, the beginning of a summer day's routine.
The next few blocks or maybe the coming end of the walk (and the wash cycle) takes on a different feel. I cross Amsterdam at 75th past what is now Citrus, what a generation ago was Cafe Central, a magical place, I'm told, where actors and dancers and musicians and artists hung out at a time when many of their stars were rising simultaneously and rapidly, where creativity, talent, energy, and community mixed. The street sweeper's noise and noisome whirling debris propel me from reverie to higher gear. Concrete trucks line Broadway at 77th as they have for weeks; the new 20-story building is up to ground level now. It is already difficult to remember the Manhattan Diner there with its eggs just the way I liked them and the waitress with the spunk and smarts, the candy shop a bit farther up where I would procure the occasional ration of no-sugar-added, dark-chocolate covered almonds.
I realize I am sliding toward sentimental as I turn into my building, only to be greeted by the Upper West Side's most philosophical porter.
"Nothing much new in my life," I respond to his cajoling query. I catch his glance on a moment's turn back as the elevator doors close and know that we both know that is not the whole story.
I push B for the basement and enter the laundry room only to find the washing machine broken and my laundry sopping wet.
On my drives South this year for family matters, I try to time it to stop in the small Eastern Shore town of Onancock. On an early morning walk last month, outside an antique store, I knelt to examine a whetstone and snapped a picture.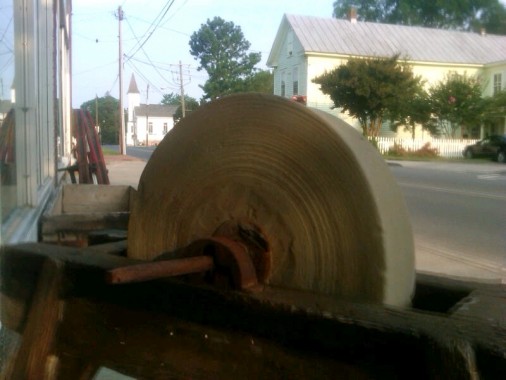 The night before I had captured a different wheel in motion.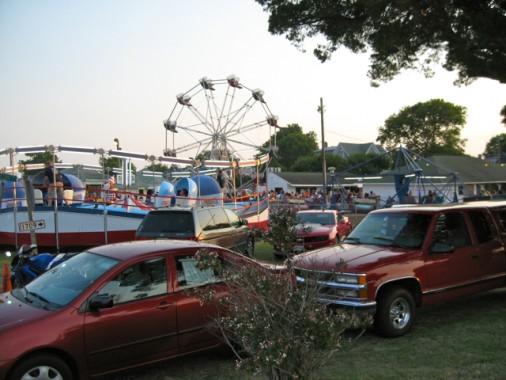 Most everyone I know periodically talks about or contemplates leaving New York, even if only as a mental exercise, to understand a bit more or a bit differently where the choices lie, if there are any.
Seeing what is immediately around me today brings to mind a whetstone against which to sharpen desire and direction and a ferris wheel of simple, shared pleasure.
Tags: coffee shops, ferris wheel, Manhattan, neighborhood, New York City, Upper West Side, urban living, whetstone