Thanksgiving
November 23, 2016
During these months in North Carolina with Ike, he is the steady focus of my days. Now 33, his undiagnosed degenerative illness has shaped his life, and ours, now for 19 years.
Amid hospice visits, friends' visits, daily routines, and settling into a house with more space for the two of us to live, and his brother and father to come for extended visits as his life likely nears its end, fragments enter my field of vision — some visual, some textual, many essentially human. They lift me from and intersperse with the fragments of meds preparation, vital signs tracking, supplies inventorying, planning, decision making, and waiting.
Friends pass along a W. S. Merwin poem. I rediscover a section of Agnes Martin's Writings found a decade ago at the Jefferson Market branch of the NYPL, a photo of Ike from 15 years ago at the New Hampshire Special Olympics, a line from Psalms written into a small Sierra Club notebook 25 years ago, and another photo of Ike beside the Hudson when he was able to travel and to come to visit in the city of his birth (though he proudly claims his Tarheel heritage, too — especially now).
~~ in Merwin's poem, I hear myself, I imagine Ike
I look back in wonder
at how I found you and we came to be here
where has it gone
never was there one step backward
Although I do not hope to know again
what I have known since the beginning
not for a moment has it left me
I keep looking for what has always been mine
searching for it even as I
think of leaving it
my love was always
woven with leaving
moment by moment leaving
the one time
— from W. S. Merwin's Garden Time:
Variations to the Accompaniment of a Cloud
~~ in Agnes Martin's Writings,  life creates life.
In this life, life is represented by beauty and happiness.
If you are completely unaware of them you are not alive.
The times when you are not aware of beauty and happiness you are not alive.
When we see life we call it beauty. It is magnificent — wonderful.
….
By awareness of life we are inspired to live.
Life is consciousness of life itself.
….
Hold fast to your life, to beauty and happiness and inspiration, and to obedience to inspiration.
….
Life moves according to a growing consciousness of life and is completely unpredictable.
….
Suffering means that you have engaged to resist death and the battle of life and death is on. Life will win.
….the current of the river of life moves us. Awareness of life, beauty and happiness is the current of the river.
With great awareness we move rapidly.
….
I am sure that all of you have had the vision of stepping into a boat and casting off and being afloat on the river of life. That vision is at the urging of life itself.
Those with a strong urge to adventure will move rapidly.
….
I think you can see that it is life itself that creates life out of death.
— from Agnes Martin's "The Current of the River of Life Moves Us" in Writings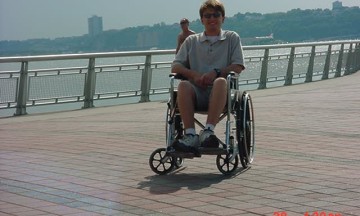 Let thy good spirit lead me on a level path. — Psalm 143:10
Ike's caregiver, Victor Blue, places his strong fingers on Ike's shoulder, calmly relaying his presence to Ike, his focus on Ike, even as he listens to the concerns and joys of Ike's brother, father, and mother.
With Thanksgiving today for those who share and expand our love for Ike and for a steady way through beauty, happiness, and inspiration.
Madge McKeithen 11/23/2016
…a bit more than 24 hours after this original post, on Thanksgiving Day, November 24, a few minutes past noon, Ike died. His father, brother, and I were at his bedside along with Victor. It was not terrible though today the separation from him does indeed have sorrowful edges.
If you can come celebrate his life with us on Monday or would like to make a donation in his memory to the Undiagnosed Disease Fund of the National Organization for Rare Disorders, please see his obituary and details here.
Tags: Agnes Martin, beauty, caregivers, death, happiness, hospice, Ike Levy, Isaac Robert Levy, life, Psalm 143, thanksgiving, undiagnosed illness, W.S. Merwin