Uzbekistan's 20th & a High School Friend's Funeral
September 1, 2011
Uzbekistan, as a nation, celebrates 20 years today. Shops, walls, fences, billboards are bedecked in banners celebrating 20 years of independence.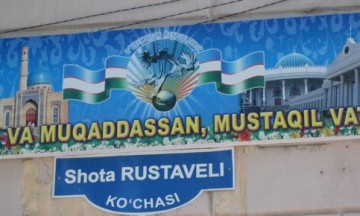 Today in my hometown of Fayetteville, North Carolina, an unforgettable high school classmate will be buried. Last week, the way in which he died rippled across Facebook and emails, my hometown paper and local law enforcement. Many of us had lost touch with Michael Evans. My strongest memories of him are now almost forty years old. From more recent years, I remember a few brief phone conversations. About five years ago, he took the time to find me, he telephoned, we said we'd meet, but we never did.
Michael touched many people in vivid and memorable ways. I think of Michael dancing, joking, questioning assumptions, pushing buttons that needed pushing, never stridently serious and at the same time never without substance, never pointless. Rarely silent, even now.
Tags: change, death, freedom, friendship, funeral, independence, loss, Michael Evans, politics, September 1, Uzbekistan