Saturday Walk Home
August 20, 2011
Few people are out. It's 2 p.m. on a Saturday in August in Tashkent during Ramadan. In six hours, there will be life on these streets. I walk home from errands and think about what we show and what we hide, how curb appeal has no meaning here. I've walked these streets before; it's close to the house where I live. When it cools a bit, there will be children playing, clumps of 5 or 6. And there will be children being held in the arms of older people, of mothers, grandfathers. Simply being held, the adults standing — a calm sight, one I see regularly in the early evening in the neighborhood where I live.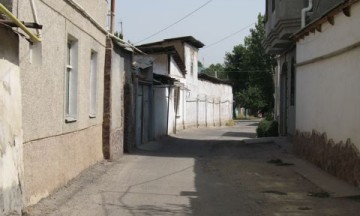 Hot, dry streets swept clean by women every morning, watered by men in the evening standing holding hoses, by women tossing out cooking water with rhythmic swings.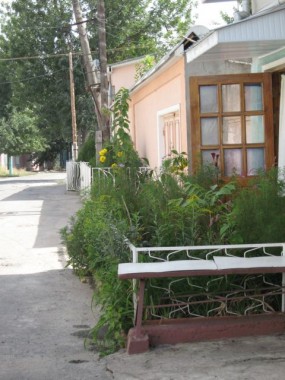 One small patch of flowers, a bit past their prime, a man's sneakers beneath the cloth hanging across the door. I need to learn the Uzbek words for beautiful, thank you.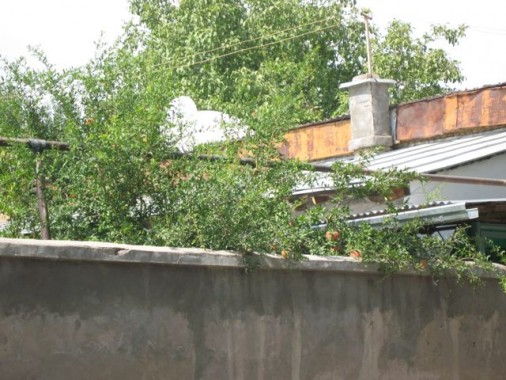 I am keeping an eye on a neighbor's pomegranate, this many-seeded fruit of the Caucasus, of Asia, Homer, The Book of Exodus, and antioxidants.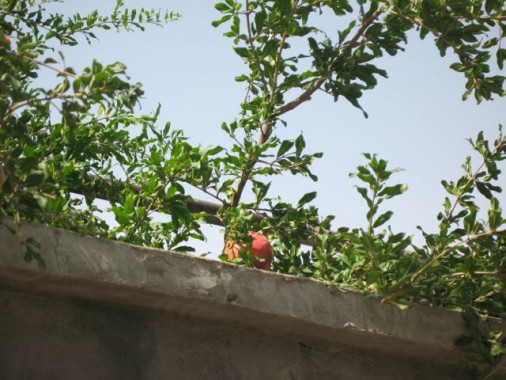 Tags: daily life, gardens, pomegranate, street scenes