As if your life depended on it
October 15, 2012
I am afraid Iran will launch nuclear weapons and Israel will in response — this from a doctor on the UWS, a neighborhood institution, and a friend of almost ten years. He arrived at this after talking about the debates — Obama, Romney, Biden, Ryan.
How do I justify spending time writing? comes so often I might say constantly from talented students — mostly younger ones pressed to earn money and build lives, and mostly older ones wanting to make sense, to understand, sometimes to offer back, usually with a more immediate sense of time running out.
I know my father is okay with being dead. I watched my father carefully over a lifetime; he believes firmly in God and eternity. I just wish he didn't have so much dying to do.
I hop a train to Newark to hear poets and manage to hear six and return home to read more. Thomas Lux on the shelf leads me to Thomas Lynch and next to Eavan Boland, I find John Brehm. Politics and death takes me to these poets as does confidence their work will take me on beyond.
Rilke in a letter to Anita Forrer, Feb 14, 1920
…Since that day, I know with absolute certainty that even the worst turn of events, that even despair is only abundance, that it is an onslaught of our being that could be forced in the opposite direction with one single decision of the heart. Where something becomes extremely difficult and unbearable, there we also stand always already quite near its transformation.
A friend who makes movies and writes poetry and directs plays invites me to see Argo. It is riveting and important, every scene vibrant as experienced and in memory. Entertainment and purpose, meaning, significance, message. Entertain is from Old French, entretenir, to hold between. The title of a book in one of my stacks is — What to Do Between Life and Death. It treats important matters, including amusement. Once in Tourettes sur Loup, a shopkeeper, with whom I exchanged glances after a tourist was enraged at being unintentionally hosed down by a man cleaning the cobblestones, whispered to me, "il faut bien rigoler."
(laughing is necessary).
Adrienne Rich, in "As if your life depended on it":
You must read, and write, as if your life depended on it.
To read as if your life depended on it would mean to let into your reading your beliefs, the swirl of your dreamlife, the physical sensations of your ordinary carnal life; and, simultaneously, to allow what you're reading to pierce the routines, safe and impermeable, in which ordinary carnal life is tracked, charted, channeled…
To write as if your life depended on it: to write across the chalkboard, putting up there in public words you have dredged, sieved up from dreams, from behind screen memories, out of silence — words you have dreaded and needed in order to know you exist.
So — two stacks of books for now —
the Death Books (below) and
the As if Your Life Depended on It books (above).
Soon, I will add Thomas Lynch's Walking Papers and John Brehm's Help is on the Way along with Cliff Garstang's What the Zhang Boys Know.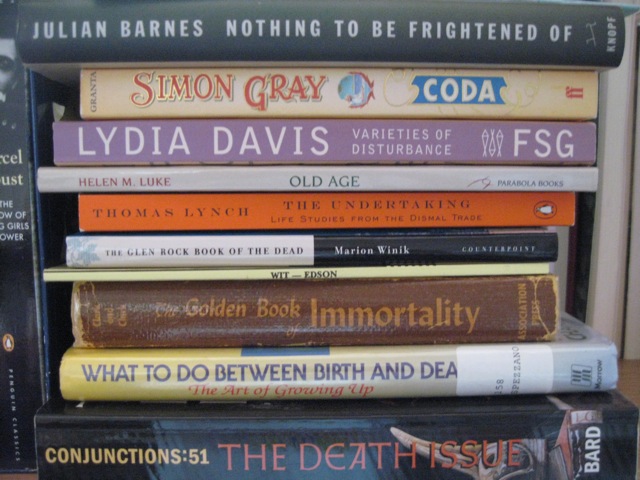 Read along, come back for comments and observations on all of the above. Your comments and suggest additions are requested.
Tags: Adrienne Rich, Argo, Ben Affleck, Charles Baxter, Clifford Garstang, death, Dodge Poetry Festival, entertainment, Felice Aull, John Brehm, John Lane, movies, Natasha Tretheway, politics, Rilke, Ron Rash, Thomas Lux, Thomas Lynch, writing